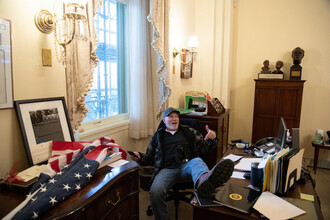 By Kyle Cheney, Josh Gerstein
POLITICO
January 25, 2023
Richard Barnett, who famously put his feet up on a desk in Speaker Nancy Pelosi's office as rioters swarmed the Capitol on Jan. 6, 2021, was convicted by a Washington jury Monday of all eight charges he faced, including four felonies.
Barnett, 62, was convicted of obstructing Congress' Jan. 6 proceedings, a charge that carries a 20-year maximum sentence, as well as disorderly conduct in the Capitol while carrying a dangerous weapon: a "Hike 'N Strike" walking stick that doubles as a stun weapon. He was also convicted of stealing an envelope from the desk in Pelosi's suite.
The Arkansan, who also goes by "Bigo," became a symbol of the brazenness of the Jan. 6 attack on the Capitol, and his smiling image while seated in a desk chair in Pelosi's suite quickly went viral. He left her a note that read, "Nancy, Bigo was here bi-otch," and, after his arrest, tried to copyright the phrase. Video showed him waving the purloined envelope — addressed to then-Rep. Billy Long (R-Mo.) — outside the Capitol.