(Washington, D.C., April 6, 2020). Larry Klayman, a former federal prosecutor with the U.S. Department of Justice and the founder, chairman and general counsel of Freedom Watch, Inc., today received notification that the public interest group's criminal complaint filed in the Hague, Netherlands, against the People's Republic of China and its president and other communist officials is being processed by the judicial body.
A copy of the complaint along with the notice by the International Criminal Court are embedded below.
Klayman had this to this to say upon getting this good news from The Hague:
"I am confident that the International Criminal Court will proceed with a criminal investigation and indict the Chinese leadership. Their crimes against humanity over the COVID-19 pandemic are severe and mounting each minute. The world demands justice for the death and destruction they have caused and continue to cause.
"The Chinese people are a good people, but the communist government is evil. They will have to answer not just to the Court, but also God."
In addition, Freedom Watch's along with legal colleagues in Israel filed a class action late last week similar to the one already filed by the group in federal court in Dallas, Texas. Go to www.freedomwatchusa.org to view all legal actions against China and to sign up to be plaintiffs, as well as to financially support these important endeavors.
Also embedded below is today's podcast discussing these ongoing legal matters.
For more information contact daj142182@gmail.com or (424) 274 2579.
View Complaint:
View Notice from ICC: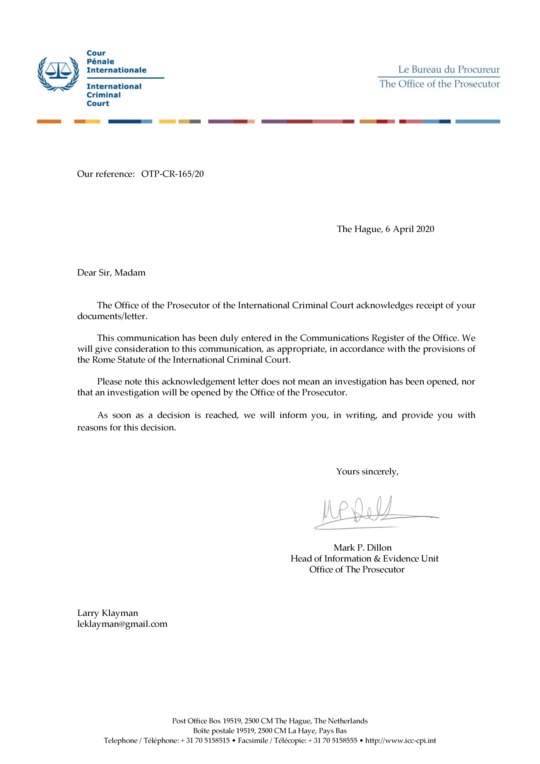 See also: BREAKING: Int'l Criminal Court Processes Freedom Watch Complaint V. China! Support Freedom Watch!