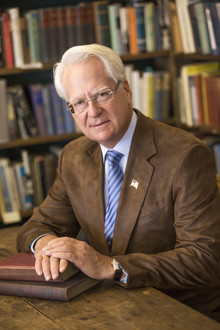 By Larry Klayman, Chairman and General Counsel
Freedom Watch
May 29, 2017
In the wake of my true predictions that Hillary Clinton would again try to run for the presidency despite her stunning defeat last November 9, as she forecast just the other day by brazenly calling in effect for the impeachment of President Donald Trump by referencing in her speech at Wellesley College former President Richard Nixon's impeachment, she has firmly thrust herself into the battle to destroy The Donald. Coupled with revelations that former President Obama's National Security Agency, undoubtedly at his direction, engaged in massive constitutional violations of the privacy rights of hundreds of millions of Americans, by violating Section 702 of the Foreign Intelligence Surveillance Act, which acts constitute crimes, it resurrects the old adage that the best defense is a good offense, as both Clinton and Obama, and their surrogates, are hell bent on bringing down the White House over the so-called Russia scandal. Ironically, they are more than exposed to criminal prosecution themselves.
Based on my considerable experience in the bowels of Washington, D.C., as the premier "scandal hunter" over the last 23 years since I founded Judicial Watch and now Freedom Watch, I would urge President Trump to unleash his Justice Department to do the job that should have finally been done years ago. In short, both Hillary Clinton and Barack Hussein Obama should now be brought before a grand jury and indictments sought for their crimes against the American people. To these law breakers who think that they can get away with almost anything, in part based on the politically correct politics of their sexual gender and their race, as if they were above the law as "protected species," I would say "You asked for it you got it Toyota." President Trump and Justice Department would in effect be saying "You want scandal and prosecutions Clinton and Obama, we will give them to you!"
The fiction that the Justice Department is independent from the president, and I am an alumnus and former federal prosecutor of this venerable law enforcement agency, is just that. The Justice Department, for better or worse, is subservient to the president under the Constitution. Perhaps it should not be this way, and I have advocated, such as in my autobiography "Whores: Why and How I Came to Fight the Establishment!", which can be found on Amazon.com or Barnes & Noble.com, that it should be made a fourth and independent branch of government, but without an amendment to the Constitution it remains part of the executive branch. Now that the left, led by the likes of Clinton and Obama and its pliant media at CNN, MSNBC and elsewhere, are using any nefarious and unchecked means to destroy the presidency, it's more than high time that they finally be also held to account under the rule of criminal law.
So I implore my alma mater, the Justice Department, to finally do its duty, put political correctness aside, and finally enforce the rule of law. As both Clinton and Obama are not before a special counsel, the Justice Department is now free to proceed to prosecute on its own both of them. Should this occur, it would serve as a warning to the left that it's now "open season" on political crime and that if they remain rabidly bent to impeach and indict Trump and his men for a so-called Russian connection, let the games begin on the crimes of the Clintons and Obama, and those who assisted them at the Clinton Foundation and the intelligence agencies. Yes, "you asked for it and you got it Toyota!" And, let's give the CNNs and MSNBCs something to really sink their leftist teeth into!