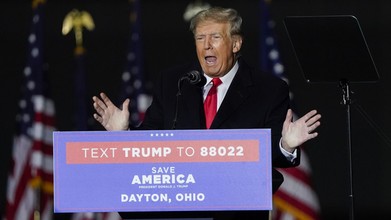 By Ivana Saric
Axios
November 28, 2022
Trump called the veteran federal prosecutor "compromised" and a "political hit man."
Why it matters: As special counsel, Smith will oversee the federal criminal investigations into Trump's efforts to overturn the 2020 election and handling of classified documents and will be tasked with prosecuting federal crimes that arise from the investigations.
His appointment, announced by Attorney General Merrick Garland earlier this month, is intended to avoid the appearance of a conflict of interest.
What they're saying: "Jack Smith (nice, soft name, isn't it?), is a political hit man, who is totally compromised, and shouldn't be allowed anywhere near our already highly WEAPONIZED & CORRUPT 'Justice' Department and FBI," Trump wrote in a Truth Social post.