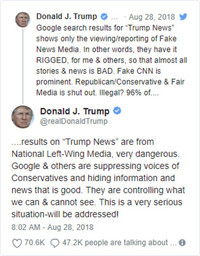 By RJ Vogt
Law 360
Law360 (August 29, 2018, 10:41 PM EDT) — After President Donald Trump raged on Twitter about "fake news media" dominating web search results, a conservative nonprofit sued tech giants Facebook, Google, Twitter and Apple for $1 billion in Washington, D.C., federal court Wednesday, alleging they violated antitrust statutes and the First Amendment by censoring conservative content.
The proposed class action suit by Freedom Watch Inc. claims all four defendants entered into an "illegal agreement to refuse to deal with conservative news and media outlets" that is "plainly anti-competitive."
In addition, Freedom Watch alleged that sites like Facebook, Twitter or Google's YouTube are effectively public platforms; by "censoring its content for purely political reasons," Freedom Watch claims the companies are violating its right to free speech.
"Since defendants, each and every one of them, have begun their conspiracy to intentionally and willfully, and/or acting in concerted parallel fashion, to suppress conservative content and refuse to deal with Freedom Watch, Freedom Watch's growth on these platforms has come to a complete halt, and its audience base and revenue generated has either plateaued or diminished," the suit alleges.
The suit comes on the heels of Trump's tweets Tuesday, which alleged that 96 percent of Google search results for the query "Trump news" come from "national left-wing media." Freedom Watch cited the same figure, attributing it to a study by PJ Media's supervising editor Paula Bolyard.
In the PJ Media story, Bolyard said she relied on a media bias chart, which Freedom Watch called "widely accepted." The chart considers "left" news sources to include mainstream outlets like The Associated Press and Reuters; big broadcast networks ABC, NBC and CBS; and major content producers CNN, NPR, Politico, USA Today and CNBC.
There are fewer sources on the "right" side of the chart, which includes The Wall Street Journal, The Economist and Fox News, as well as outlets like Daily Mail, Info Wars, The Blaze, Drudge Report and Breitbart.
In Wednesday's complaint, Freedom Watch relies on the PJ Media study and other articles from conservative sources like the National Review and The Western Journal to claim that Google, Facebook and the tech companies aim to "use their position of influence and great market power … to recraft the nation into their leftist design."
As example, the organization cited Google's decision earlier this month to delete a YouTube channel belonging to Alex Jones of InfoWars, which the suit said had "more than 2 million subscribers and many years' worth of content." Apple removed InfoWars podcasts from its platform as well.
After Trump's tweets Tuesday, Google responded in a statement to multiple news outlets, saying, "We never rank search results to manipulate political sentiment." Representatives for the company did not immediately respond Wednesday to a request for comment on Freedom Watch's suit.
Representatives at Facebook, Twitter and Apple also did not immediately respond to a request for comment Wednesday.
Larry Klayman, Freedom Watch's founder, said in a statement that Attorney General Jeff Sessions is "inert and compromised" for not taking action against the social media giants, going on to call Sessions "the darling of the left, given his refusal to prosecute Hillary Clinton, John Brennan, James Clapper, James Comey, prominent Democrats and others … while at the same time giving Robert Mueller carte blanche to proceed with his 'witch hunt.'"
"The job now falls to Freedom Watch to right this discrimination against conservatives by the social media giants," Klayman said, going on to note that the complaint seeks more than billion dollars in damages.
"That [sum] … pales in comparison to what the Commission of the European Union has already levied against such social media giants such as Google for their alleged ruthless tactics in stifling competition," he added.
Klayman told Law360 on Wednesday that his organization had been preparing the suit before Trump's tweets on Tuesday, but he noted the commander in chief's comments "certainly brought everything to a crescendo."
He also told Law360 that he suspects YouTube has "put some kind of governor" on Freedom Watch's YouTube account, keeping it from growing its subscriber base.
"That kind of thing is happening with everybody," he said. "A decision was made about six months ago that these companies were not going to allow conservative organizations to flourish. It's part of the attempt to take down President Trump."
In remarks about the alleged censorship that were broadcast on C-SPAN Tuesday, Trump's chief economic adviser, Larry Kudlow, said, "We're taking a look at it, we'll let you know."
When a reporter challenged the 96 percent statistic as having originated in Russian media during the 2016 campaign and later having been discredited, Kudlow shook his head and said, "This is above my pay grade, I don't know."
Wednesday, Trump pinned a tweet to his Twitter timeline with the hashtag #stopthebias, attaching a video that purports to show how Google promoted President Barack Obama's State of the Union addresses, but not Trump's. Multiple online commentators have since challenged the authenticity of the video, which was retweeted 25,000 times within the first five hours of its posting.
Freedom Watch is represented by its Chairman and General Counsel Larry Klayman.
Counsel for Google Inc., Facebook Inc., Twitter Inc. and Apple Inc. is not yet available.
The case is Freedom Watch Inc. v. Google Inc. et al., number 1:18-cv-02030, in the U.S. District Court for the District of Columbia.
–Editing by Katherine Rautenberg.