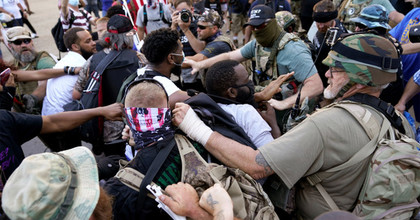 New York Post
September 7, 2020
As Kentucky Derby Day finally arrived in Louisville, Ky., hundreds of armed militia members marched through the city's downtown to confront Black Lives Matter supporters who have been demonstrating for 101 straight days.
A crowd of self-identified "patriots" carrying long guns — some waving American flags, others waving Trump flags — marched from a parking lot to the downtown area, where another group was calling for action in the Breonna Taylor case.
Taylor, a 26-year-old emergency medical technician, was shot dead when police burst into her home in the middle of the night on March 13.