Time To Dis-Barr D.C. Swamp Rats with Special Guest Larry Klayman
Go to www.FreedomWatchUSA.org to Sign Petition to Withdraw William Barr Nomination and Substitute Bob Barr and to Have Him Appoint Klayman Special Counsel! Also Donate and Share
Crowdsource the Truth
January 19, 2019
Larry Klayman joins me with the latest updates on numerous cases he is involved in. Together we continue to examine William Barr's extremely questionable past and his troubling history with Robert Mueller, The swamp overrunneth...





Subscribe to the Freedom Watch channel on YouTube
---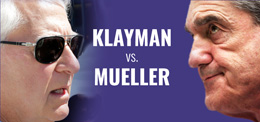 Sign Our Petition to Remove Robert Mueller and William Barr
We the People Call On President Trump to
Remove Robert Mueller
as Special Counsel and to
Replace William Barr
as the Next Attorney General With Bob Barr and to Appoint
Larry Klayman
as Special Counsel to Investigate the Clintons and Finally Bring Criminal Charges Against Them!
Sign Now!

Your help is urgently needed!
Support our cause and join our fight!