"They Had a Humongous Blowup": As Election Approaches, Trump Fears Fox News Is Going Rogue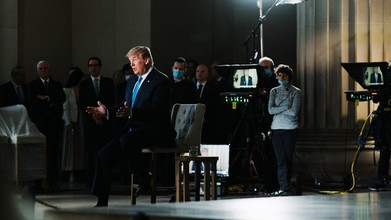 By Gabriel Sherman
Vanity Fair
September 11, 2020
At first glance Donald Trump should be relieved that a Fox News host will moderate the first presidential debate on September 29. Many observers consider the network to be the de facto propaganda arm of the White House, and its hosts are among Trump's most loyal surrogates. Chris Wallace, who will be behind the moderator's desk later this month, is the rare exception: a Fox anchor who is unafraid to confront Trump. "Any Republican who thinks Wallace will go easy on Trump is badly mistaken. He's no joke," a former West Wing official said.

The Trump campaign had hoped that the Commission on Presidential Debates would choose Bret Baier or Martha MacCallum, Fox anchors who are seen as less aggressive than Wallace. Sources close to Trump are worried that Trump is unprepared to handle what Wallace could throw at him. The two have history. In July, Wallace's contentious interview with Trump featured the president boasting that he passed a cognitive test. "Well, it's not the hardest test," Wallace responded. "It shows a picture and it says, 'What's that?' And it's an elephant."



Your help is urgently needed!
Support our cause and join our fight!