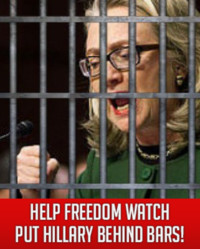 Dear Friend and Patriot:
As I alone predicted, so called Special Counsel John Durham FAILED!
Hillary Clinton's attorney and low-level henchman, Michael Sussmann, was ACQUITTED of lying to the FBI as he planted the Russia-Gate story to bring down Donald Trump's campaign.
For years, the Left weaponized their Deep State Justice Department to target everyday Americans and obstruct our fight to hold Hillary, her evil and radically corrupt presidential campaign and other criminal enterprises from justice. Investigating the Russia Collusion Hoax was a waste of millions of taxpayers' dollars and FAILED under the "leadership" of John Durham, an establishment political hack, who rather than prosecuting Hillary went after a low-level clown, Michael Sussmann.
OUR TAX DOLLARS WERE WASTED ON A FAILED INVESTIGATION TO EXPOSE A POLITICAL WITCH HUNT!
DONATE TO PUT HILLARY BEHIND BARS!
Why would they indict, out of ALL SENIOR OFFICIALS, a low-level lawyer from a corrupt law firm, when he could go for the source, the international criminal Hillary Rodham Clinton and her politically powerful crime family?
Because it was all for show!
It's no wonder the Obama Appointed HACK Judge and a tainted jury acquitted Michael Sussmann, the lawyer of Perkins Coie, the Democrat's law firm, who lied to the FBI about Russian collusion and triggered the Russian collusion witch hunt was left off the hook!
Not only did the Left LIE and DECEIVE the American people, but they also kept that narrative going for YEARS to defeat Trump with the phony nonsense scheme to halt the America First Agenda!
The establishment and DC swamp also united in TREASON to mobilize Joe Biden's Gestapo-like thugs at the FBI and his historically radical Department of Justice who are NOTORIOUS for covering up Clinton and Biden crimes that would put me or you in prison for LIFE!
And as for Biden, his braindead weakness transcends his political cover ups of his political friends, it is INTERNATIONAL!
His latest pathetic attempts of supplying short distance rockets to Ukraine aren't good enough, he should have militarily held Russia at bay before Putin unleashed a virtual Holocaust in Ukraine.
Russia is now on the march and winning and it's due to Bidens weakness, nothing more. This would have NEVER happened under the Trump Administration.
I am half of Ukrainian origin. This issue is near and dear to me. We need to preserve freedom, but the Biden Crime Family should not be the "leader" to do it. Soon we'll be in conflict and he will fail . . . again.
We WILL do what the Justice Department failed to do. We will bring Clinton, Joe Biden and their crime syndicate to justice! DONATE NOW!
As you know, when I founded and ran Judicial Watch, I am the only lawyer ever to have a court rule that Bill Clinton committed a crime. I will do it again with Hillary and Biden in our citizens grand juries and trials. They will surely be convicted and then sentenced to life imprisonment. To enforce the sentence, we will enlist law enforcement and the military to carry the sentence out.
As the founder of both Judicial Watch and Freedom Watch, I know how to take on a corrupt government and win! I've been doing it for THREE DECADES! I've been winning for decades and won't lose now! Like we always say, Never fear, Freedom Watch is here!
And it all starts with reversing the fear that the government has ingrained in the psyche of Americans since the 1920's.
We must return to the mindsets of our Founding Fathers: the government must fear the people!
And we can do that peacefully and in the courts with rabid, persistent litigation, citizens grand juries and trials that EXPOSE AND PROSECUTE them for the political hack criminals that they really are!
But that requires a war chest and funds are dwindling! Would you contribute $25, $50, $75 NOW?
Will you make an emergency donation today?
Any amount helps, but if you can donate $75 or more today, I'll send you a copy of my newest book, It Takes a Counter-Revolution: Wake Up America, which provides a hard-hitting road map to defeating the likes of Hillary, Biden and the left, which has taken total control over our lives and will tolerate no, repeat no, dissent!
BUT A CONTRIBUTION IN ANY AMOUNT IS WELCOME AND SORELY NEEDED TO CARRY OUT OUR IMPORTANT MISSION.
Thank you for your patriotism and your willingness to fight against the Gestapo-like stormtroopers of the Biden regime and Hillary Clinton in Washington. Our fight only stops when we win! Help AMERICAN PATRIOTS WIN!
With Respect and Gratitude
Larry Klayman
Founder of both Judicial Watch and Freedom Watch
Current Chairman and General Counsel of Freedom Watch, Inc.