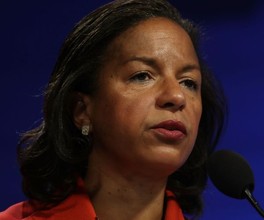 By Larry Klayman
Newsmax
April 3, 2017
It has now been reported that Obama officials, such as former United Nation's ambassador Susan Rice, were among those in and around the former president to "unmask" the names and confidential confidential information of and about President-elect Donald J. Trump and his associates from otherwise classified intelligence reports.
Susan Rice of course is just one of the "intelligence" officials who lied under oath to Congress during the Obama administration and her lies at the time centered on a false story that the Benghazi deaths of my clients' sons, Ty Woods and Pat Smith, and the American ambassador, Christopher Stephens, were the result, as former Secretary of State Hillary Clinton also put it, a "walk in the woods" by persons angry at a critical video of the Muslim prophet Mohammed. The other Obama intelligence officials who famously, or should we say infamously lied to Congress under oath were James Clapper, Director of National Intelligence (DNI) and John Brennan, Director of the Central Intelligence Agency (CIA). Their perjurious lies falsely denied the illegal and constitutional surveillance of masses of innocent American citizens and members of Congress, such as Senator Diane Feinstein, respectively.
But the story about Obama involvement and intelligence agency illegality, in violation of the Fourth Amendment of the Constitution, as federal judge Richard Leon found in two lawsuits I brought a few years ago (see www.freedomwatchusa.org) goes far beyond the actions of Rice, Clapper, Brennan and their comrades in the Obama administration.
As my client and whistleblower Dennis Montgomery is prepared to testify under appropriate circumstances that would protect the classified information he left the National Security Agency (NSA) and CIA with when he was a contractor, the government has been illegally spying on prominent Americans, like Trump, and others like yours truly, as well as the masses, for many years.
The intelligence committees on Capitol Hill have thus far shied away from if not spurned delving into the offered testimony of Montgomery, probably because their members are nearly as culpable at the Rices, Clappers, and Brennans of the intelligence world. Thanks to their oversight authority, they knew or should have known about this dangerous and potentially coercive "Orwellian" intrusion into the rights to privacy of the citizenry, and did nothing about it fearing that if they pushed too hard, that the likes of the Rices, Clappers, and Brennans would then release information smearing if not destroying their professional and private lives.
We live in a dangerous world externally, with the despots of North Korea, the Islamic Republic of Iran, Russia, China and other adversaries in the act of producing and/or already training nuclear weapons down on our shores or our allies' shores. But the real threat to our republic lies within. The police state that now is apparent to all who have an IQ over 50, and are not political hacks like House Intelligence Committee Minority Co-Chairman Adam Schiff, buttressed by dishonest leftist media organizations like CNN, MSNBC, NBC, the New York Times and Washington Post, is not something to dismiss lightly.
For if King George III had the capabilities and ruthlessness of the nations' intelligence agencies to spy universally and without limits in the years leading up to 1776, our Founding Fathers never would have made it to Philadelphia to sign the Declaration of Independence and found a new free nation. Their noble and courageous plans would have been "unmasked," and they would surely have been arrested, incarcerated and executed before they got there.
And, that is why our work to uncover this Orwellian takeover of our country is so important if we are to survive as a great nation, free from these forces of evil. Go to www.freedomwatchusa.org to join our Second American revolution to help rid the nation of these evildoers!
Larry Klayman, founder of Judicial Watch and Freedom Watch, is known for his strong public interest advocacy in furtherance of ethics in government and individual freedoms and liberties. To read more of his reports, Go Here Now.