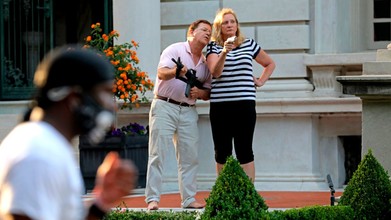 USA Today
June 6, 2022
WASHINGTON — The Supreme Court on Monday declined to hear an appeal from a St. Louis couple who could face indefinite suspension of their law licenses after they waved guns at a racial justice protest outside their home in 2020.
Mark McCloskey, a personal injury attorney and Republican candidate for the U.S. Senate in Missouri, and his wife, Patricia McCloskey, drew national attention for walking onto their front yard with guns during a protest of the police killing of George Floyd in Minneapolis.
The protesters were walking to the home of the St. Louis mayor at the time.