Sign Petition To Support Freedom Watch's Legal Cases to Remove Mueller
Freedom Watch TV
January 4, 2018
0:00
Good afternoon, my name is Larry Klayman. You know me as the founder of both Judicial Watch and Freedom Watch. I'm currently the chairman and general counsel of Freedom Watch.
0:09
I'd like you to go to
https://www.freedomwatchusa.org
and sign a petition and support Freedom Watch, because we have brought hard-hitting cases to have Special Counsel Mueller, who is persecuting not just the president and everybody around him, but others involved, such as Manafort and Rick Gates, with regard to investigations that have nothing to do with this original mandate.
0:36
Is that we need to take strong legal action and we have. We're the only ones who have done that. At Freedom Watch. There are other groups, such as my former group, that primarily bring document requests.
0:47
Well, documents are nice, but documents aren't going to bring about justice, because that depends on having the U.S. Department of Justice bring prosecutions. And under this Attorney General Jeff Sessions, who's afraid of his shadow, because he's also under investigation by Special Counsel Mueller. And he doesn't want to push too hard, for fear that he could wind up indicted.
1:06
You need the real people's Justice Department, which is Freedom Watch. We have lawsuits which are pending right now. So go to freedomwatchusa.org. Sign our petition. Support our work. Sign up for our newsletters. Become a part of our team, because we the people must rise up, because the government isn't going to do it. The so-called government.
1:26
We need to mete out justice legally and ethically on ourselves, because as our great founding father John Adams said, "Without ethics, morality, and religion, we will not have lasting liberty," and unfortunately today we don't have a Justice Department. But you do have freedomwatchusa.org. We are your real Justice Department.
1:46
God bless you. God bless America. God save America.
Subscribe to the Freedom Watch channel on YouTube
Freedom Watch TV can be found on
---
URGENT: Please Sign These Petitions to Remove Mueller and Sessions and to Have Klayman Appointed as Special Counsel to Investigate the Clintons and Finally Bring Criminal Charges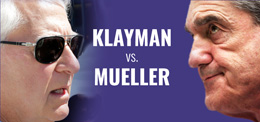 Sign Our Petition to Remove Robert Mueller as Special Counsel
We the People Call On President Trump to
Remove Robert Mueller
as Special Counsel and to Appoint
Larry Klayman
to Investigate the Clinton Email, Uranium One, and Fusion GPS Scandals! We Also Support Freedom Watch's
Lawsuit to Remove Mueller
Sign Now!
---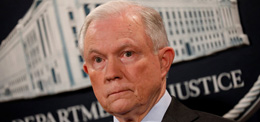 Sign Our Petition to Remove Jeff Sessions as U.S. Attorney General
We the People Call on President Trump to
Remove Jeff Sessions as Attorney General
and Replace Him With a Competent Attorney Who Has the Guts to Prosecute Hillary Clinton, James Comey, Robert Mueller, and Others That Were Part of the Corrupt, Even Treasonous, Obama Administration and Hold Them Accountable for Their Crimes!
Sessions'
Incompetence
and "
Disgraceful
" Dereliction of Duty Regarding His Inaction on Fusion GPS, the Phony Steele Dossier, and the Illegal and Unconstitutional Wiretapping of the President and His Associates Disqualify Him From the Office of Attorney General. We Demand He Resign or Be Removed!
Sign Now!

Your help is urgently needed!
Support our cause and join our fight!