Sign Petition to Appoint Larry Klayman Special Counsel to Prosecute the Clintons and Obamas
Freedom Watch TV
January 4, 2018
0:00
Good afternoon, my name is Larry Klayman. You know me as the founder of both Judicial Watch and now Freedom Watch. I'm currently the chairman and general counsel of Freedom Watch.
0:10
We have posted on our website at
https://www.freedomwatchusa.org
a petition to have me appointed special counsel to investigate all of the Hillary Clinton and Obama scandals. Obviously, this hasn't been done in nine years, even the people in Congress who make a lot of noise, go on Fox News, do a lot of publicity, really never get to the issue.
0:38
I'm the only lawyer ever to have a court of law find that a president of the United States committed a crime. That was Bill Clinton back in the 1990s. And I'm the only lawyer suited to do this.
0:49
So sign that petition. Go to freedomwatchusa.org. Urge the president to have me appointed special counsel, and I'll do the job. I can assure you we will investigate and when we find the evidence, which we know is there, we'll be prosecuting Hillary Clinton and Obama for their crimes.
1:07
Go to freedomwatchusa.org. God bless you, God bless America, God save America.
Subscribe to the Freedom Watch channel on YouTube
Freedom Watch TV can be found on
---
URGENT: Please Sign These Petitions to Remove Mueller and Sessions and to Have Klayman Appointed as Special Counsel to Investigate the Clintons and Finally Bring Criminal Charges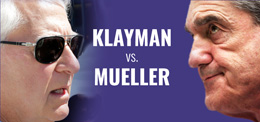 Sign Our Petition to Remove Robert Mueller as Special Counsel
We the People Call On President Trump to
Remove Robert Mueller
as Special Counsel and to Appoint
Larry Klayman
to Investigate the Clinton Email, Uranium One, and Fusion GPS Scandals! We Also Support Freedom Watch's
Lawsuit to Remove Mueller
Sign Now!
---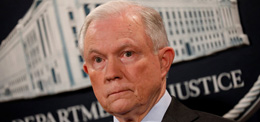 Sign Our Petition to Remove Jeff Sessions as U.S. Attorney General
We the People Call on President Trump to
Remove Jeff Sessions as Attorney General
and Replace Him With a Competent Attorney Who Has the Guts to Prosecute Hillary Clinton, James Comey, Robert Mueller, and Others That Were Part of the Corrupt, Even Treasonous, Obama Administration and Hold Them Accountable for Their Crimes!
Sessions'
Incompetence
and "
Disgraceful
" Dereliction of Duty Regarding His Inaction on Fusion GPS, the Phony Steele Dossier, and the Illegal and Unconstitutional Wiretapping of the President and His Associates Disqualify Him From the Office of Attorney General. We Demand He Resign or Be Removed!
Sign Now!

Your help is urgently needed!
Support our cause and join our fight!