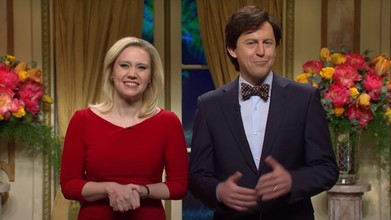 By Mychael Schnell
TheHill
March 6, 2022
"Saturday Night Live" knocked Fox News hosts Tucker Carlson and Laura Ingraham for their comments on the Russian invasion of Ukraine in the sketch comedy show's latest episode.
The show opened with the "Fox News Ukrainian Invasion Celebration Spectacular," which was hosted from Mar-a-Lago. Carlson, played by Alex Moffat, and Ingraham, played by Kate McKinnon, hosted the fictitious event.
"Good evening, everyone. I'm Tucker Carlson. I'm like if a pair of boat shoes came to life," Moffat's Carlson said.