Reclaim America Now Coalition gets National Park Service permit for demonstration across from White House
The Beginning of the Non-Violent, Peaceful, Second American Revolution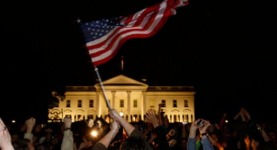 Date: November 19, 2013
Time: 10:00 am – 6:30 pm
Place: Lafayette Park
(Washington, D.C., November 6, 2013). Today, Larry Klayman, the founder of Freedom Watch and an organizer of "Reclaim America Now Coalition" announced that the
National Park Service
has granted the coalition a permit to meet and protest the Obama administration's continuing failure to take into account and redress the grievances of the American people. The demonstration will also address President Obama's cover-up of various scandals, including the growing NSA scandal. It will include not only persons who have been summoned to Washington, D.C., to mass and show the resolve of the people, but also will include prominent speakers such as
Former U.S. Attorney and Congressman Bob Barr, Former U.N. Ambassador Alan Keyes
and others from all walks of life who have been aggrieved by the policies and actions of President Obama and other government leaders.
See www.reclaimamericanow.net.
Never before has such a widespread coalition been compiled to show peaceful, non-violent force, as in the days leading up to the American Revolution. As our Founding Father and second president declared, "[w]hen the government fears the people, there is liberty." In the style of Gandhi, Martin Luther King Jr., and others who have changed history and
reclaimed freedom
, Americans have no choice – as the three branches of government have completely abdicated their representation of citizens' complaints. The government needs to fear that the people will rise up if things do not change in Washington, D.C.
A list of demands of
legitimate grievances
will be presented to President Obama and other government leaders, which they can remedy or resign from office.
Klayman, one of the organizers of this effort, said: "We the People have had enough of the corrupt and incompetent ways of the Obama administration and its bipartisan political enablers. It is time for action, not words. Together, the American people will prevail and will save this nation from extinction at the hands of a present government that could care less about the legitimate needs of the people. We welcome persons from all spectra of society to join us in this quest to reclaim freedom for the masses."
See
www.reclaimamericanow.net
and contact us at daj142182@gmail.com to join the fight before all is lost.

Your help is urgently needed!
Support our cause and join our fight!