Obama's swearing in furthers election fraud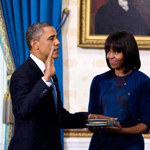 Klayman and Great Percentage of Americans Refuse to Recognize Him as "President"
(Washington, D.C., January 21, 2013). Larry Klayman, the founder of Judicial Watch and now Freedom Watch and a former candidate for the U.S. Senate in Florida, and the only lawyer ever to have obtained a court ruling that a sitting president had committed a crime (which occurred during the Clinton administration) today refused to congratulate Barack Hussein Obama with regard to his "inauguration" celebration and his having been illegally sworn in yesterday and today by Chief Justice John Roberts. Klayman is representing voters and a 2012 Presidential candidate, Virgil Goode, in election challenges in Alabama and Florida (see
www.freedomwatchusa.org
;
citizensgrandjury.com
and
larryklayman.com
), where it is alleged, based on proof from official government sources, that Obama is not as required by the U.S. Constitution a "natural born citizen" born in the United States or its territories to two American citizen parents and thus cannot run or be elected for the Office of the President. These cases are presently before the Alabama Supreme Court (Alabama CV-2012-1053) where Chief Justice Roy Moore now presides and the First District Court of Appeal in Florida (1D12-3489).
Klayman stated: "The biggest fraud in the history of the nation has been perpetrated against the American people. Since Republicans have refused to stand up to Obama's fraud, which has put him in office now for two successive terms, my clients and other voters around the country have been forced to take legal actions challenging his eligibility to be president. Obama, a man who holds little allegiance to our country, and in fact has taken many actions in the last four years which have harmed the national interest, must be held to account in a court of law under the rule of law. Despite judges having thus far been afraid to confront the substantial evidence of Obama's fraud for fear of retaliation by the Obama administration and other establishment interests, we are hopeful and confident that eventually the truth will be widely known through our ongoing election challenges and other legal actions and that Obama will, like President Richard Nixon during Watergate, be forced to resign. The future of the country and our children and grandchildren hang in the balance."
For an interview with Mr. Klayman, contact Adrienne Mazzone 561-750-9800 x210; amazzone@transmediagroup.com.

Your help is urgently needed!
Support our cause and join our fight!