Obama and CDC sued over Ebola epidemic
(Washington, D.C., October 14, 2014). Today, Larry Klayman, a former U.S. Department of Justice prosecutor and founder of Freedom Watch, announced that he has personally filed a lawsuit against President Barack Hussein Obama and those in his administration, including the director of the Center for Disease Control, who are recklessly exposing the American people to the deadly Ebola virus and thus furthering a national epidemic.
As Klayman wrote in his weekly column in
www.wnd.com
last weekend, Obama has opened the door to Ebola infected visitors and immigrants from Liberia and West Africa, when all travel from these affected nations should have simply been shut down. Other western nations have banned travel outright to protect their citizens. Obama, however, feeling obvious kinship to Africa, has simply put into effect an ineffective screening procedure, and done so only at 5 American airports, including the Newark airport. This amounts to a reckless plan to open the door not just to his infected fellow Africans, but also American Muslim ISIS suicide terrorists who would intentionally infect themselves with the deadly disease and thus have it spread wildly throughout the United States.
As a result, Obama and the other defendants, including the director of the CDC, were sued, in part, under anti-terrorism laws, for in effect furthering acts of terrorism. The 27 page complaint (see
www.freedomwatchusa.org
) also alleges civil rights violations for reverse discrimination and other causes of action.
Klayman has standing to sue as last Wednesday, he was on "information and belief" exposed to the Ebola virus while passing through Newark airport on the way to Europe. As disclosed for the first time by the CDC at its press conference while Klayman was already on a plane bound for Newark airport for a change of planes to Switzerland, over 150 travelers from Liberia and West Africa pass through Newark airport each day.
The lawsuit was filed in the federal court in Washington, D.C. (case no. 14-1704).
Klayman had this to say. "Someone has to have the guts to take on Obama and his CDC yes-men and use the courts to stop this deadly outrage threatening the lives of all Americans. I trust that we will find a judge who also has the guts to enjoin this attack on our citizens which could ultimately dwarf the tragedy of September 11."
For more information contact daj142182@gmail.com or (424) 274-2579.
Attached:

141014-EbolaComplaint13.pdf
---
URGENT: Please Sign These Petitions to Remove Mueller and Sessions and to Have Klayman Appointed as Special Counsel to Investigate the Clintons and Finally Bring Criminal Charges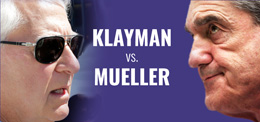 Sign Our Petition to Remove Robert Mueller as Special Counsel
We the People Call On President Trump to
Remove Robert Mueller
as Special Counsel and to Appoint
Larry Klayman
to Investigate the Clinton Email, Uranium One, and Fusion GPS Scandals! We Also Support Freedom Watch's
Lawsuit to Remove Mueller
Sign Now!
---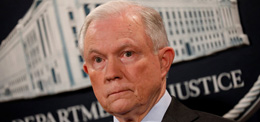 Sign Our Petition to Remove Jeff Sessions as U.S. Attorney General
We the People Call on President Trump to
Remove Jeff Sessions as Attorney General
and Replace Him With a Competent Attorney Who Has the Guts to Prosecute Hillary Clinton, James Comey, Robert Mueller, and Others That Were Part of the Corrupt, Even Treasonous, Obama Administration and Hold Them Accountable for Their Crimes!
Sessions'
Incompetence
and "
Disgraceful
" Dereliction of Duty Regarding His Inaction on Fusion GPS, the Phony Steele Dossier, and the Illegal and Unconstitutional Wiretapping of the President and His Associates Disqualify Him From the Office of Attorney General. We Demand He Resign or Be Removed!
Sign Now!

Your help is urgently needed!
Support our cause and join our fight!