Mitt Romney: 'Ready for My Close-Up, Mr. Demille'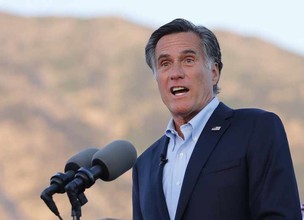 By Frank Miele
Real Clear Politics
January 7, 2019
It is hard to quantify the smallness of Mitt Romney, but let's just say that if character were measured in shoe size, we'd be using the children's scale to gauge his worth.

He certainly is not qualified to walk in the shoes of President Trump, nor even to follow in his footsteps. Utah's newest senator is so small he'd get lost in the cavernous legacy left behind by each footfall of the historic president who dares to walk upright among the craven beasts of the Swamp.

Yet Romney continues to surprise in his utter inability to recognize this—or accept his own limitations. Last week, as the rest of us were celebrating the new year, Romney was celebrating his own self-righteousness in a self-indulgent op-ed published in the Never Trumpers' unofficial house organ, a.k.a. The Washington Post. Published under the lugubrious headline "The president shapes the public character of the nation. Trump's character falls short," this nastygram was apparently intended to reassure us that a new adult is in the room to take the place of dour and departed Jim Mattis.



Your help is urgently needed!
Support our cause and join our fight!