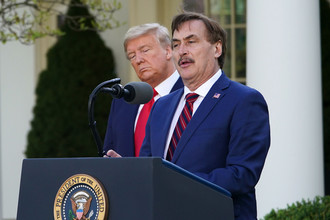 By Jason Lemon
Newsweek
April 3, 2022
MyPillow CEO Mike Lindell, a staunch supporter of former President Donald Trump, said that he's now spent some $35 million of his own money attempting to prove that President Joe Biden's 2020 election win was fraudulent.
Trump and his allies, such as Lindell, continue to claim that Biden only won the last presidential election due to "widespread fraud" or "hacking" of election machines. Although many supporters believe the conspiracy theory, no evidence has emerged corroborating the allegations.
Lindell has been one of the key promoters of the false claims—traveling around the country to host and attend large events where many Trump supporters largely believe the misinformation. On Saturday, the pro-Trump businessman attended a rally for the former president at the Michigan Stars Sports Center in Washington Township, Michigan. Ahead of Trump's speech, Lindell spoke to Right Side Broadcasting Network (RSBN) about his ongoing efforts to prove Biden isn't the legitimate president.