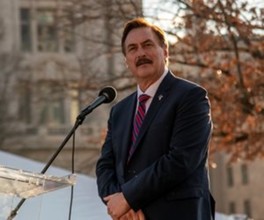 By Eric Mack
Newsmax
December 13, 2020
At the 'Stop the Steal' rally in Washington, D.C., on Saturday, MyPillow founder Mike Lindell fired criticism at Fox News, saying they were "in on" bending the election toward Joe Biden.
"Why do you think Fox declared Arizona with only 14% of the vote in?" Lindell told the rally crowd. "They already knew what they did. They were in on it. I'm serious. They had to be in on it."
Lindell spoke for around 30 minutes, saying "this had to happen" so America could root out election fraud for future elections.
He added hope the nation comes back to "one nation under God," because people only turn to faith "when times are bleakest."