Klayman: Worthless and Cowardly Republicans About to Bail Out Again! Time to Send Them to the Ash Heap of American History for Rolling Over Again to the Socialist-Communists of the Democratic Party!
Order "It Takes a Revolution: Forget the Scandal Industry!" at BarnesandNoble.com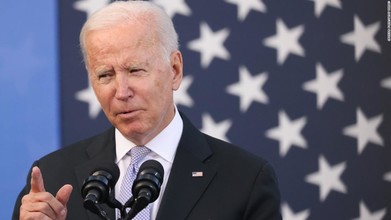 By Analysis by Stephen Collinson
CNN
October 25, 2021
(CNN)Joe Biden is tantalizingly close to fulfilling what supporters see as the historic promise of his presidency in the coming days, at a critical moment for his social policy transformation at home and his hopes of reclaiming US leadership overseas.

After weeks of feuding between moderate and progressive Democrats and his agenda's several brushes with extinction, the President's double play of social spending and a bipartisan infrastructure program may finally come to fruition this week. Democrats hope to agree on a framework on a trimmed down package of social, health care and education programs in order to lift a House progressive blockade on a vote on the bipartisan bill fixing roads, bridges and railroads.

"I think we're pretty much there now," House Speaker Nancy Pelosi told CNN's Jake Tapper on "State of the Union" on Sunday. A Democratic source told CNN's Manu Raju the goal is now for the House to have a vote on the infrastructure package on Wednesday or Thursday and send it to Biden's desk. The exact content of the final social spending bill is not yet known, since negotiations on paring back a more ambitious program to win moderate votes have been taking place behind closed doors. But Democrats still appear to be determined to provide free pre-kindergarten education, an extension of Medicare, home care for seniors and more affordable child care. Another uncertainty is the way the final package will play with the most progressive members of the House who had wanted a much larger spending blueprint and had held up the infrastructure bill as a result in prolonged standoffs within the Democratic Party.



Your help is urgently needed!
Support our cause and join our fight!