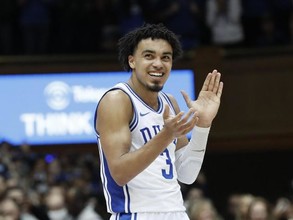 By Jared Fialko
WRALSportsFan.com
March 28, 2020
Tre Jones took the modern day road less traveled. He turned down the 2019 NBA Draft, where he was projected by many as a late first round selection, for two reasons. Getting back to 100 percent healthy, placed a distant second.
"Coming back to win a National Championship was the first thing on my mind," recounts Tre Jones, who threw his name into the draft hat upon abrupt completion of his sophomore season at Duke.
The opportunity to return to the NCAA Tournament and advance further than last year's Elite Eight showing was ripe for the taking. Then, poof. Gone.