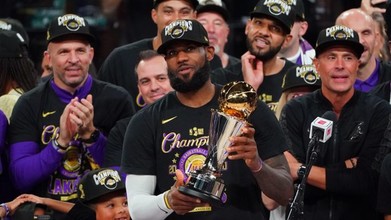 By William C. Rhoden
The Undefeated
October 12, 2020
By winning his fourth NBA title, LeBron James has not only just leaped into history, he's also leaped over Michael Jordan in the heated, ongoing debate over which player is greatest.
James scored 28 points and had a triple-double Sunday to lead the Los Angeles Lakers to the franchise's 17th NBA title.
There has not been another NBA superstar to lead three different teams to a championship: not Jordan, not Magic Johnson, not Kobe Bryant. Kareem Abdul-Jabbar led the Milwaukee Bucks to a title and then helped the Lakers win five, but no one has matched James.