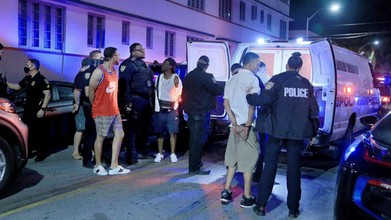 By Martin Vassolo
Miami Herald
March 18, 2021
Concerned about spring break crowds and recent crimes that have angered Miami Beach residents, Mayor Dan Gelber said Wednesday that city and police officials are taking steps to maintain order in South Beach ahead of what could be another hectic weekend.
One night after a deadly shooting, City Hall began closing public parking garages Tuesday evening near the South Beach party strip to everyone but area residents and access card holders. Police, who also closed 10 blocks of Collins Avenue Tuesday night due to big crowds and gridlock, have called for more backup from outside agencies.
Miami-Dade officers, who have supplemented city staffing during weekends this spring break, began their South Beach patrols Tuesday night and will remain in the area through the weekend. In total, 50 additional officers from Miami-Dade and Coral Gables will back up Miami Beach Police this weekend.