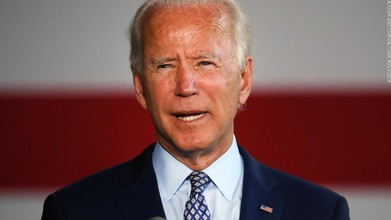 By Kate Sullivan and Sarah Mucha
CNN
July 21, 2020
Washington (CNN)Presumptive Democratic presidential nominee Joe Biden said Monday he was considering four Black women to be his running mate, and has been receiving extensive vetting briefings about each potential candidate.
"I am not committed to naming any (of the potential candidates), but the people I've named, and among them there are four Black women," Biden told MSNBC's Joy Reid on "The ReidOut."
He said he is getting a "two-hour vetting report" on each of his potential picks, and that he and his team have gone through "about four candidates" so far. "Then, when I get all the vetting done of all the candidates, then I'm going to narrow the list, and then we'll see. And then I'm going to have personal discussions with each of the candidates who are left and make a decision," Biden said.