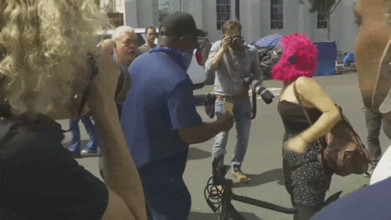 By Emma Colton
Fox News
September 9, 2021
Critics are lambasting the woman who was seen on camera wearing a gorilla mask while throwing an egg at California gubernatorial candidate Larry Elder as he toured a homeless encampment in Los Angeles.
"A blatant racist wearing a gorilla mask attacked @larryelder these people are completely unhinged," former Republican candidate for the Virginia House of Delegates, Jeffrey A. Dove Jr., tweeted in response to video of the incident.
Elder was on a tour of a homeless encampment in Venice Beach on Wednesday when the woman dressed in black and wearing a gorilla mask launched an egg at the conservative radio show host. The egg did not hit Elder.