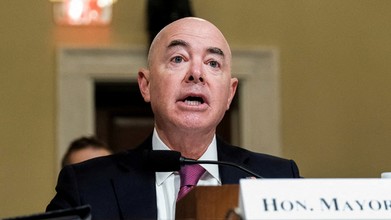 By Adam Shaw
Fox News
November 26, 2022
The Department of Homeland Security on Wednesday pushed back against GOP House Leader Kevin McCarthy's call for DHS Secretary Alejandro Mayorkas to step down or potentially face impeachment — with the agency saying lawmakers can "do better than point the finger at someone else" for the problems at the southern border.
"Secretary Mayorkas is proud to advance the noble mission of this Department, support its extraordinary workforce, and serve the American people," a DHS spokesperson told Fox News Digital. "The Department will continue our work to enforce our laws and secure our border, while building a safe, orderly, and humane immigration system."
McCarthy, who is seen as the favorite to take over as speaker when Republicans take control of the House next year, held a press conference Tuesday at the southern border, during which he said the DHS chief must resign or face potential impeachment due to his handling of the migrant crisis.