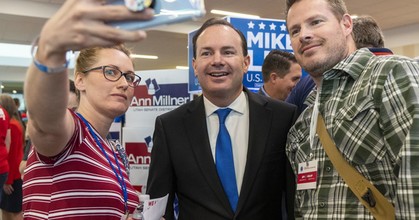 The Salt Lake Tribune
April 19, 2022
Sen. Mike Lee says he is worried about the future of journalism in America. That's why he's very concerned about AT&T's decision to boot far-right channel One America News Network off its lineup and wants to know if the move was the result of a partisan decision.
AT&T's decision comes after AT&T subsidiary DirecTV decided not to renew its contract with the ultraconservative OAN earlier this year. The network alleges the move was part of a "political scheme" to put the channel out of business. Reuters reported 90% of OAN's operating revenue comes from DirecTV.
Lee and Texas Sen. Ted Cruz sent a letter to the AT&T Board of Directors expressing "grave concern" about the state of the media and political discourse in America, demanding to know if politics played a role in ending the contract with OAN, according to a tweet from Ron Filipkowski.