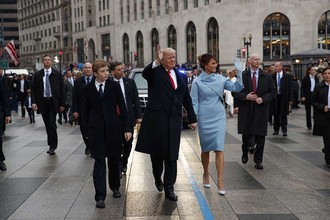 By Sam Stein, Daniel Lippman
POLITICO
January 19, 2021
Donald Trump's presidency was always going to be … atypical. But few, if anyone, outside his orbit got as early a taste of what was to come as Brian Mosteller.
Described by colleagues as fastidious almost to the point of obsessiveness, Mosteller served as President Barack Obama's special assistant and director of Oval Office operations. That meant that on the day of Trump's inauguration in 2017, he was one of just a handful of aides left there to help with the transition. Advertisement
On that Jan. 20 morning, Mosteller recalled Trump and Obama, along with a smattering of top political leaders, congregating in the Blue Room of the White House for the ceremonial tea. As the group began filtering out to get into their motorcade for the trip to the Capitol, the incoming and outgoing president lingered in the Grand Foyer. There, Obama quickly briefed Trump on a pending national security matter.