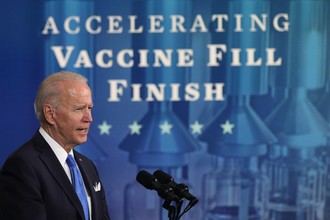 By Erin Banco, Adam Cancryn, Sarah Owermohle
POLITICO
April 23, 2021
The Biden administration has stood by Johnson & Johnson as the vaccine maker struggled to deliver promised doses of its Covid-19 vaccine — but privately, frustrated senior health officials have largely written off the shot, according to seven people with knowledge of the matter.
Johnson & Johnson, which has a long history of successful vaccine development, was one of the government's first and biggest bets in the coronavirus vaccine race. But the company has faced an unrelenting series of setbacks, including a contractor mix-up that ruined 15 million doses and revealed serious safety and hygiene lapses, and concerns that the vaccine may be linked to recent reports of rare, severe blood clots among recipients. Advertisement
A Centers for Disease Control and Prevention vaccine advisory committee will meet Friday for the second time to review the possible blood clot link, and federal health officials are expected to update their current recommendation to pause use of the shot. But the Biden administration is bracing for yet another potential complication: If ongoing tests of remaining vaccine batches made by J&J's contractor Emergent BioSolutions reveal further contamination, it could take the vaccine maker up to four months to replace those doses through manufacturing at alternate facilities, according to two people with direct knowledge of the situation.