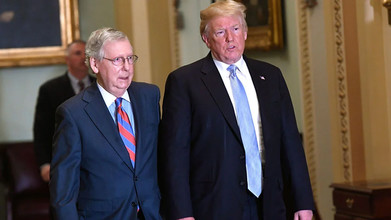 By Alexander Bolton
TheHill
November 18, 2021
Former President Trump ripped into Senate Minority Leader Mitch McConnell (R-Ky.) once again on Wednesday, giving the leader an invective-filled ultimatum to stand firm against raising the debt ceiling and keep his conference unified against President Biden's spending agenda.
Trump blasted his former Senate ally as "stupid" and a "fool" and accused him of "incompetence" in a long, tangled statement that jumped from expressing displeasure over Republican votes on a procedural motion related to raising the debt limit in October, to Congress's passage of the $1.2 trillion bipartisan infrastructure bill this month, to the ongoing Democratic talks over a social spending bill.
Trump's scathing statement follows several similar attacks in recent days in which he lashed out at "Old Crow" McConnell for voting for the hard infrastructure bill along with 18 other Senate Republicans and 13 House Republicans.