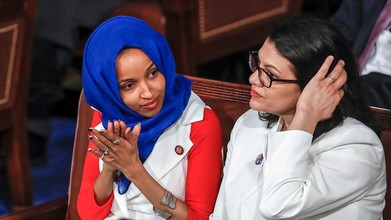 By Alex Pappas
Fox News
August 20, 2019
President Trump weighs in on progressive 'Squad' members' feud with Israel.
President Trump on Tuesday suggested Jewish Americans who vote for Democrats either lack the requisite knowledge or show "great disloyalty," amid the escalation of the war of words with Reps. Rashida Tlaib and Ilhan Omar over Israel.
Speaking to reporters in the Oval Office about his feud with the two Muslim congresswomen, the president accused Tlaib and Omar of being anti-Semitic and argued they "hate" Israel and Jewish people.