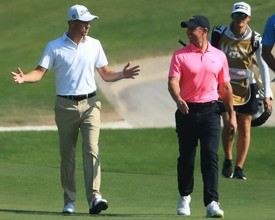 By John Huggan
GolfDigest.com
January 22, 2021
Justin Thomas and Rory McIlroy exchanged fist bumps on the final hole after wrapping up their first rounds at the Abu Dhabi HSBC Championship on Thursday. Thomas shot a 73 to McIlroy's 64.
It was one of those mornings where one man made golf look easy and the other made it look difficult. In every aspect of the game Rory McIlroy outshone Justin Thomas, the difference between the pair nine shots—64 to 73—by the close of their opening rounds in the Abu Dhabi HSBC Championship. Eight birdies (and no bogeys) highlighted McIlroy's card; Thomas' three dips under par were outnumbered by his four dropped shots.
Generally, however, scoring was low in the morning wave that teed-off in the wake of a three-hour delay because of thick fog in the United Arab Emirate. Tyrrell Hatton's 65 was the next best thing to McIlroy's eight-under-par effort and as many as 29 men broke par in the first round of the first event of the European Tour's 2021 season. All of which only served to darken Thomas' mood already dimmed by the continued fallout from his unfortunate comments earlier this month. By the end of proceedings, the former PGA champion was a forlorn figure.