Klayman: This Stupid and Dishonest Golf Sportswriter Intentionally Ignores the Incontrovertible Fact That Well Before LIV the PGA and Its Affiliated Tours Had Themselves Been Corrupted by Huge Muslim Arab Money! Ergo "The Race to Dubai!"
Order "It Takes a Counter-Revolution!" at Amazon.com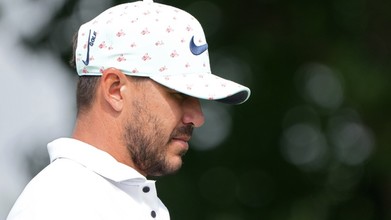 Golfweek
June 22, 2022
Koepka has always fancied himself more an athlete than a golfer, but this is an admission that he's neither, that he's just an entertainer doomed to play exhibitions against the washed-up veterans and no-name youngsters that he's long considered unfit to sniff his jockstrap.

There's a reason behind the tacit acknowledgment: Koepka's body has been degrading for years and a nagging injury has him perilously close to surgery and a lengthy layoff. He might have committed to the Saudis, but they will be lucky to see him fulfill it.

There is a trend apparent among the players going to LIV Golf, beyond the obvious thirst for money. In almost every case, their long-term ability to consistently compete against the world's best on the PGA Tour is questionable, be it on the basis of physical longevity (Koepka, DeChambeau), decrepitude (Mickelson, Westwood, Poulter), diminishing skill (McDowell, Kaymer) or apathy (Johnson, who'd rather be fishing). They are stars emeritus, their best rendered roadkill some miles back by younger, healthier and more powerful competition. Any suggestion that he belongs among their ranks will wound a prideful man like Koepka, but it's true.



Your help is urgently needed!
Support our cause and join our fight!