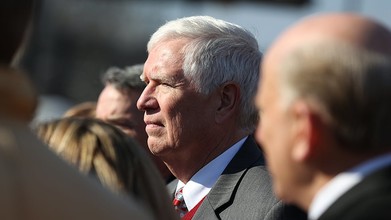 By Harper Neidig
TheHill
July 28, 2021
The Department of Justice (DOJ) on Tuesday declined to back a Republican lawmaker's legal defense against a lawsuit accusing him of helping to foment the Jan. 6 Capitol riot.
DOJ lawyers said in a court filing that they were declining to certify Rep. Mo Brooks's (R-Ala.) claim that he was acting within the scope of his official duties as a member of Congress when he delivered a speech to Trump supporters at the Jan. 6 "Stop the Steal" rally.
"The record indicates that Brooks's appearance at the January 6 rally was campaign activity, and it is no part of the business of the United States to pick sides among candidates in federal elections," the filing reads.