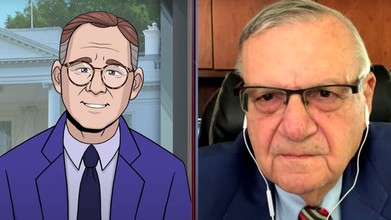 By David Moye
HuffPost
September 19, 2020
Joe Arpaio may have just had the crappiest interview in his career, thanks to some animated "journalists."
The controversial former Arizona sheriff appeared on "Tooning Out the News," a satirical CBS All Access series that features cartoon "journalists" interviewing real-life newsmakers.
Anyone expecting the animated anchors to throw softball questions at Arpaio were in for a shock.
A third of the segment detailed a long list of what the show called Arpaio's "atrocities," and the first question didn't take place until nearly three minutes into the nearly 10-minute segment.