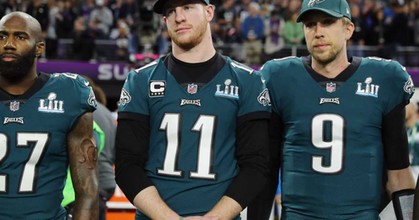 By Ben Shapiro
Daily Wire
June 6, 2018
On Monday evening, President Trump announced he was disinviting the Super Bowl-winning Philadelphia Eagles from coming to the White House thanks to their low turnout. It was obviously a case of "you can't quit — you're fired!" from the president. But what's worse, Trump is lying about it.
Here was Trump's statement:
"The Philadelphia Eagles are unable to come to the White House with their full team to be celebrated tomorrow. They disagree with their President because he insists that they proudly stand for the National Anthem, hand on heart, in honor of the great men and women of our military and the people of our country. The Eagles wanted to send a smaller delegation, but the 1,000 fans planning to attend the ceremony — one that will honor our great country, pay tribute to the heroes who fight to protect it, and loudly and proudly play the National Anthem. I will be there at 3:00 p.m. with the United States Marine Band and the United States Army Chorus to celebrate America.