Klayman: Talk About Liars: Seth Meyers Is a Card Carrying Member of the Dishonest Marxian Jewish Left!
Order "It Takes a Revolution: Forget the Scandal Industry!" at BarnesandNoble.com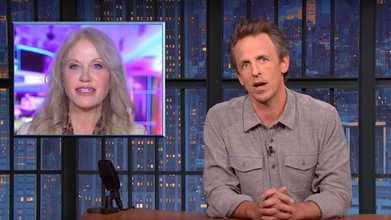 By Matt Wilstein
The Daily Beast
November 11, 2021
Of all the former Trump White House officials whom Seth Meyers "would have been happy to never see or hear from again," Kellyanne Conway sits at the top of the list.

"Probably the person I miss the least is Kellyanne Conway, whose shamelessness really knew no bounds," the Late Night host explained Wednesday night. "She was somehow the Trump administration's most prolific and also worst liar." Meyers added that Conway "lied the way your kids lie," going way too far to the point where no one could plausibly believe her nonsense.

The quote that "should follow her for the rest of her career," he continued, is the time in March 2020 when she "insisted in the most condescending way possible" that the COVID-19 virus was "being contained."



Your help is urgently needed!
Support our cause and join our fight!