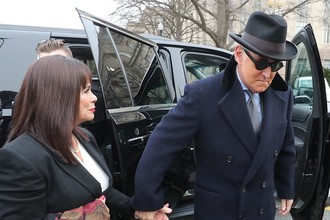 By Josh Gerstein, Kyle Cheney
POLITICO
June 24, 2020
Longtime Trump adviser Roger Stone is asking a federal court for a delay of more than two months in the 40-month prison sentence he is to begin serving next week after being convicted last year of seeking to stymie a congressional investigation into Russian influence in the 2016 presidential election.
In a series of hyperbolic Instagram postings over the past few days, Stone has starkly warned that he is facing likely or even "certain" death from the coronavirus if he is forced to report to prison on June 30.
"I'm fighting for my life," Stone warned in one video Tuesday, wearing a face mask emblazoned with the words "Free Roger Stone!." In the social media messages, Stone says he is 67 years old, suffers from asthma and has a history of respiratory problems.