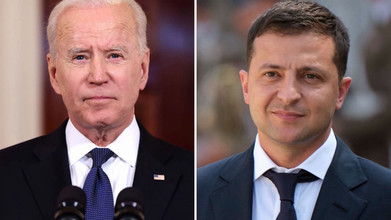 By Betsy Klein
CNN
January 1, 2022
Washington (CNN)President Joe Biden will speak with Ukrainian President Volodymyr Zelensky on Sunday, several days after Biden urged Russian President Vladimir Putin to ease an unremitting military crisis on Ukraine's border.
Biden, a White House official said, "plans to speak by phone with President Zelensky of Ukraine on Sunday to reaffirm US support for Ukraine's sovereignty and territorial integrity, discuss Russia's military build-up on Ukraine's borders, and review preparations for upcoming diplomatic engagements to help de-escalate the situation in the region."
The call comes days before Russian and US officials are set to meet in person in Geneva on January 10 amid a Russian military buildup on the Ukraine border and ongoing tensions. Zelensky spoke with US Secretary of State Antony Blinken ahead of the call earlier this week.