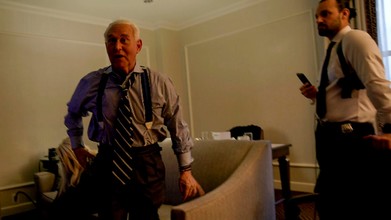 Washington Post
March 14, 2022
As a mob ransacked the Capitol on Jan. 6, 2021, Roger Stone, Donald Trump's longest-serving political adviser, hurried to pack a suitcase inside his elegant suite on the fifth floor of the Willard hotel. He wrapped his tailored suits in trash bags, reversed his black face mask so its "Free Roger Stone" logo was hidden, then slipped out of town for a hastily arranged private flight from Dulles International Airport.
"I really want to get out of here," Stone told an aide, as they were filmed at the hotel by a Danish camera crew for a documentary on the veteran Republican operative. Stone said he feared prosecution by the incoming attorney general, Merrick Garland. "He is not a friend," Stone said.
Stone allowed the filmmakers to document his activities during extended periods over more than two years. In addition to interviews and moments when Stone spoke directly to the camera, they also captured fly-on-the-wall footage of his actions, candid off-camera conversations from a microphone he wore and views of his iPhone screen as he messaged associates on an encrypted app. Reporters from The Washington Post reviewed more than 20 hours of video filmed for the documentary, "A Storm Foretold," which is expected to be released later this year.