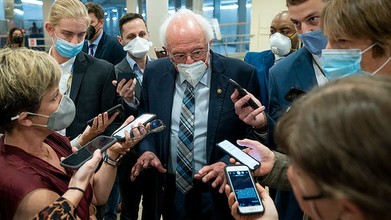 TheHill
October 7, 2021
Sen. Bernie Sanders (I-Vt.) declined to sign a proposed statement condemning recent protests against Sen. Kyrsten Sinema (D-Ariz.) because it did not address her resistance to prescription drug reform and the Democrats' budget reconciliation package, Axios reported.
Footage circulated over the weekend of activists following Sinema into a bathroom at Arizona State University, where she teaches, and calling on her to support the $3.5 trillion reconciliation package. Sinema blasted the move in a statement on Monday saying it "was not legitimate protest."
Jeff Giertz, communications director for Sen. Cory Booker (D-N.J.), coordinated a joint statement among lawmakers condemning the protests against Sinema, asking senators' offices if they'd be interested in signing and mentioning Booker was open to edits, according to screenshots of the conversations.