Klayman: Salute to Pompeo: More Jewish Than the Self-Hating Leftist Self Hating Jewish Reporter Oren Liebermann Who Wrote This Article!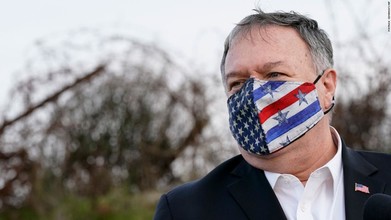 By Oren Liebermann, Jennifer Hansler and Kylie Atwood
CNN
November 19, 2020
Jerusalem (CNN)Secretary of State Mike Pompeo's visit to Psagot on Thursday marked the first time a top American diplomat has visited a settlement in the West Bank, considered illegal under international law. For any other Secretary of State, this move would have been unprecedented, breaking with decades of US foreign policy and ignoring UN Security Council resolutions. But not from Pompeo, who has been moving American policy in this direction since virtually the beginning of his time as the Trump administration's top diplomat.

Under Pompeo, the State Department ruled that settlements are not de facto illegal under international law, leaving it up to Israel's court system to determine the legality of construction on land the rest of the world considers occupied territory. Speaking about that decision earlier in the day beside Israeli Prime Minister Benjamin Netanyahu in Jerusalem, Pompeo called it a "simple recognition of this as part of Israel" and "a recognition of the reality."

"For a long time, the State Department took... a view that didn't recognize the history of this special place," Pompeo went on. "Today the United States Department of State stands strongly to the recognition that settlements can be done in a way that are lawful and appropriate and proper."



Your help is urgently needed!
Support our cause and join our fight!