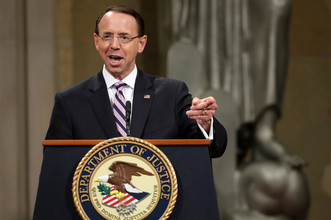 New York Post
January 9, 2020
Rod Rosenstein, the former deputy attorney general who initiated and oversaw the special counsel investigation led by Robert Mueller, is moving to corporate law.
The former second-in-command at the Justice Department is joining King & Spalding LLP as part of their special matters and government investigations team, the firm announced Wednesday.
In his first job in the private sector, Rosenstein, 54, who served nearly 30 years at DOJ, will be joining a firm filled with former colleagues.