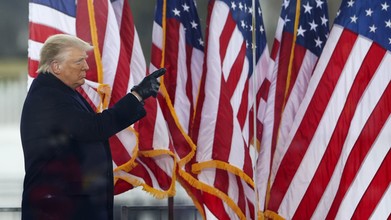 By Shawna Chen
Axios
January 19, 2023
A federal judge said Tuesday that a California woman who breached the U.S. Capitol during the Jan. 6 insurrection "followed then-President Trump's instructions" in breaking the law.
Driving the news: Danean MacAndrew, who traveled to D.C. from California for Trump's rally and filmed herself storming the Capitol with the mob of pro-Trump supporters, was found guilty on charges including violent entry and disorderly conduct in a Capitol building after a three-day bench trial.
What they're saying: Before the Jan. 6, 2021, rally on Jan. 6, MacAndrew tweeted at him "that she too felt that '[t]raps had been set' in the '#RiggedElection' of 2020," District Judge Colleen Kollar-Kotelly wrote in the 18-page opinion. "And at the 'Stop the Steal' rally, then-President Trump eponymously exhorted his supporters to, in fact, stop the steal by marching to the Capitol.