Klayman: Prosecute Daddy Dick Cheney as a War Criminal Lying About Iraqi Weapons of Mass Destruction, Provoking a War That Killed Thousands of Brave Servicemen!
Order "It Takes a Counter-Revolution!" at Amazon.com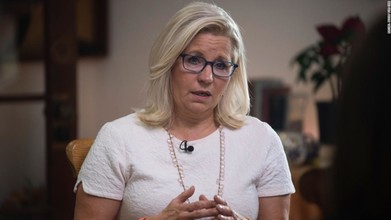 By Eric Bradner, CNN Photographs by Rachel Woolf for CNN
CNN
August 4, 2022
(CNN)Wyoming Rep. Liz Cheney said if the Justice Department does not prosecute former President Donald Trump for his role in the insurrection at the US Capitol and "the facts and the evidence are there," the decision could call into question whether the United States can "call ourselves a nation of laws."

In an interview with CNN's Kasie Hunt, Cheney -- the GOP vice chair of the House select committee investigating the events surrounding the January 6, 2021, insurrection -- said Trump is "guilty of the most serious dereliction of duty of any president in our nation's history" and pointed to a judge who's said he likely committed crimes. She said the House committee is "going to continue to follow the facts. I think Department of Justice will do that. But they have to make decisions about prosecution."

"Understanding what it means if the facts and the evidence are there, and they decide not to prosecute -- how do we then call ourselves a nation of laws? I think that's a very serious, serious balancing," Cheney said.



Your help is urgently needed!
Support our cause and join our fight!