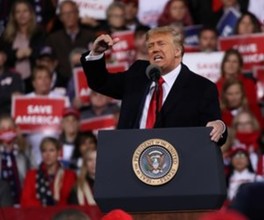 By Eric Mack
Newsmax
December 7, 2020
President Donald Trump praised Newsmax's election coverage in his salute to media actively covering his campaign's legal battles against voter fraud, including playing 4 minutes of Newsmax TV's "Stinchfield" to his raucous rally Saturday night.
"I'll tell ya, we have some great new people," Trump told the large and boisterous Valdosta, Georgia, crowd, "Newsmax."
The rally cheered loudly when Trump called out the "fake news."
"That's a big group of people back there," Trump said. "That is a lot of fake news. But now we call it the fake news and the suppression news. I use the word suppression.