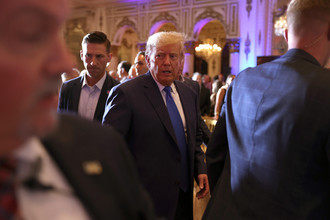 By David Siders
POLITICO
November 27, 2022
Donald Trump's lackluster campaign announcement was one thing. His real problem is fast becoming the collective shrug Republicans have given him in the week-plus since.
Far from freezing out potential competitors, Trump's announcement was followed by a raft of potential 2024 contenders appearing at the Republican Jewish Coalition conference in Las Vegas over the weekend, where at least one Republican who had previously said she would defer to Trump if he ran — former U.N. Ambassador Nikki Haley — now said she is considering running in a "serious way."
A super PAC supporting Trump's chief rival, Florida Gov. Ron DeSantis, plans to begin airing TV ads in Iowa on Friday. And even the news that Elon Musk was lifting Trump's ban on Twitter wasn't breaking through.