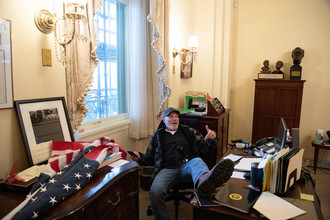 By Pete Williams and Erik Ortiz
NBC News
January 9, 2021
WASHINGTON — A man photographed casually sitting with his foot on a desk in House Speaker Nancy Pelosi's office at the U.S. Capitol while a pro-Trump mob rampaged the halls of Congress was arrested Friday, law enforcement officials said.
Richard Barnett, 60, of Gravette, Arkansas, was taken into custody in his home state on federal charges of entering and remaining on restricted grounds, violent entry and theft of public property, according to a Department of Justice official. A spokesperson for the U.S. Attorney's Office for the Western District of Arkansas tells NBC News Barnett was arrested this morning and he's being held in the Washington County Detention Center in Fayetteville, Arkansas, awaiting his initial appearance.
Images, apparently of Barnett, were splashed across social media as the deadly mayhem unfolded in the nation's capital on Wednesday, just as Democratic and Republican lawmakers convened to count the Electoral College votes. Members of Congress condemned the violence and rioting, which was preceded by a rally led by President Donald Trump who told his supporters to swarm the Capitol in defiance of the election results.