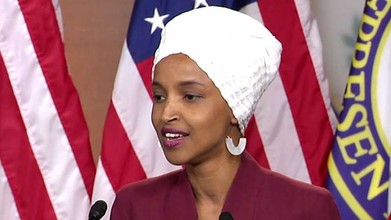 Omar introduces resolution defending boycott of Israel, likens it to boycotts of Nazi Germany, Soviet Union
By Lukas Mikelionis
Fox News
July 18, 2019
U.S. Rep. Ilhan Omar proposed a resolution this week supporting the right to boycott Israel, likening the boycott of the Jewish state to boycotts of Nazi Germany and the Soviet Union.
Omar's resolution seeks to push back against U.S. laws banning the boycott of Israel and affirms the right of Americans to organize boycotts of foreign countries if they so wish.
While the resolution doesn't explicitly name Israel or the pro-Palestinian Boycott, Divestment and Sanctions (BDS) movement, she told media outlets that the resolution concerns the Jewish state.
COMPLAINT FOR WRIT OF MANDAMUS TO ORDER U.S. DEPARTMENT OF HOMELAND SECURITY TO COMMENCE INVESTIGATION OF REP. ILHAN OMAR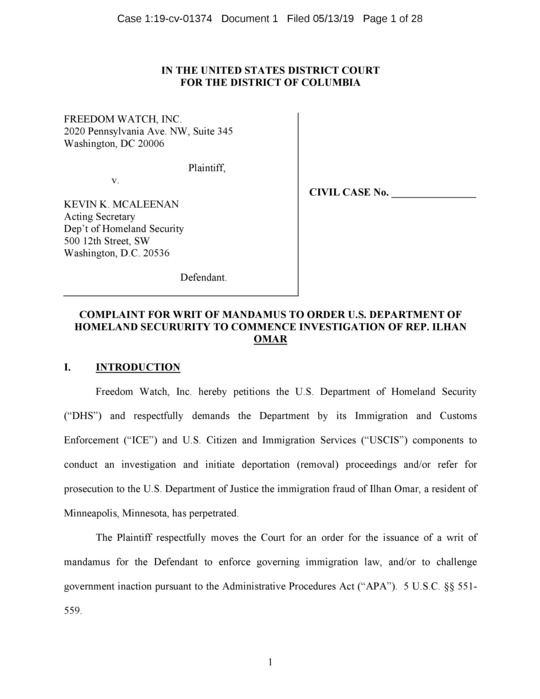 PETITION TO COMMENCE DEPORTATION PROCEEDINGS FOR REMOVAL FROM THE UNITED STATES AND/OR PROSECUTION OF ILHAN OMAR